Study of the EUR / USD
The European currency should reverse its trend


An area of extremely strong support:
The euro was worth 1.6040 against dollar on July 15 last. Currently on a level of 1.4400, the European currency is near a set of key materials located on an area covering the level of 1.4300 to 1.4350 on. The dam support is likely to reverse the trend. We are positioned right on a trend begun in November 2005. The level of 1.4360 represents a ratio of 0,382 Fibonacci on a weekly chart for two years. All highest of meetings in September and October 2007 and that low sessions in December 2007 to January 2008 are included in this area.

The objectives of short-term rebound:
Firstly, the severe fall of the European currency, just two months, up to sixteen figures has not been traced. As the trees did not go up to heaven, he is the same for the fall using the Dow theory. Our strategy rebound on oil pending the meeting of OPEC during the hurricane season would promote such an anticipation. The objectives courts are located on the levels of 1.4500, 1.4560, 1.4625 and 1.4700. This last point at 1.4700 is our key objective of rolling back on the level of 1.4500, before returning to rise and reach the next goal on the level of 1.50.

The interconnectivity of financial markets in support of our scenario:
The asset class of commodities could also trace the image of the Gold past the level of 1017 than 786.
The technical figure on the Gold would anticipate an immediate rebound materialized by a "flight to quality 'own sectoral rotations of the asset managers. The Gold often moves graphically unlike the Dollar. The Dollar index confirms for the moment our scenario turning bullish. Many Asian central banks have recently defended their currency against the dollar. The dollar index deserve to breathe for a technical pause had already come to this stage two thirds of the distance separating us from our goal. This decline Technical would corroborate the tracing bullish on the EUR / USD. moreover, the European Central Bank, in all likelihood, should not continue its policy of raising rates supporting the currency, to curb inflation certainly at its peak. fall in growth forecasts in Europe would plead in this direction.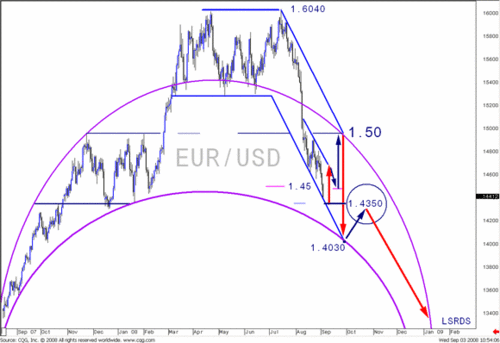 | | |
| --- | --- |
| | |


Our strategy is clearly downward in the medium and long term:
Our objectives would be located bearish on the levels of 1.4030 and 1.3400. The level of 1.4030 represents the Fibonacci ratio of 0,618 calculated on the progress of the currency over a year, as it can be seen on grapique attached.

The limits of our strategy:
Although the currency on the euro: "The trend is my friend", we can not in the immediate future we rely on figures technical rollover.
A break in the threshold of 1.4350 put our scenario of short-term rebound in danger, even invalidate below the 1.4300 level before reaching our goals bearish.

Louis-Serge Real del Sarte