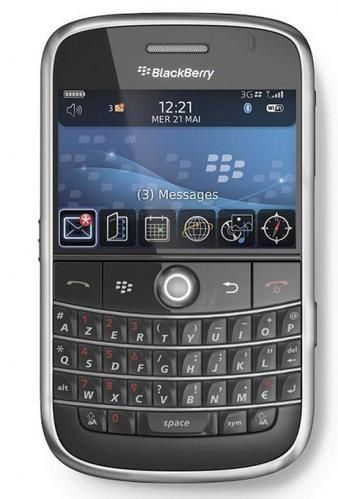 U

nveiled last May, the BlackBerry Bold arrives in France with Bouygues Telecom Companies. The new terminal is clearly the top of the range offers a wide range of functions. In terms of networks, is compatible Bold Edge, but especially 3G HSDPA which allows a real comfort for the mobile Internet, it is also Wi-Fi and GPS. What compete with the new 3G iPhone but if it does not have a touch screen.



F

or the french market, Bold has been customized with services dedicated pre-board. There is a direct access to information Figaro.fr BFM and LCI.fr, a license Webraska navigation than a year. In addition to these services, Bouygues Telecom customers will benefit from links in the form of bookmarks: Voyages-sncf.com for travel professionals and L'Equipe. Com.



T

he Bold is equipped with a new user interface and multimedia and a new browser offers two modes of reading Web (column or desktop style). It features a 624 MHz processor (StrongARM), a flash memory of 128 MB, a memory of 1 gigabyte and a digital camera 2 Mo.

The display is meant to be "the most brilliant and most net ever presented on a BlackBerry smartphone" with a resolution of 480x320, comparable to the one proposed by the iPhone. Its size is still smaller than the one proposed at the terminal of Apple.



A

s usual, the BlackBerry is primarily designed for the mails. It works with BlackBerry Enterprise Server (environments IBM Lotus Domino, Microsoft Exchange and Novell GroupWise). It also works with BlackBerry Internet Service, which allows the user to access up to ten email accounts professional or personal.



C

oncerning the rates, Bouygues Telecom Companies is aggressive since the Bold is available from 199 euros HT with an offer. But it remains more expensive than 3G iPhone sold from 149 euros at Orange.
In addition to offering requested, and for 17 euros HT / month, consumption data is unlimited in time and volume and includes the double email access his business and his personal emails, browsing the Internet and unlimited GPS And unlimited access to the information services of Figaro, LCI and BFM Radio.