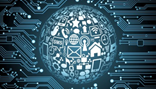 THE IMPACT OF COMPUTERS ON OUR WORLD
The Stanford Club of European Leaders, The Harvard Club of France and HEC Alumni International are pleased to invite you to delve into the amazing ways modern computing technology is transforming our w...orld and touching almost every area of human endeavor
THE IMPACT OF COMPUTERS ON OUR WORLD
on Monday June 3, 2013 – 7 :00 p.m.
with Eric Roberts, Stanford University Professor of Computer Science, Faculty Director of Interdisciplinary Science, Harvard BA, MA, PhD
Professor Roberts, one of the most prominent Stanford faculty, will speak of the intellectual excitement of computer science and the importance of making this science available to a wider audience. To use technology effectively, students need exposure to computational thinking and the power it offers…
and Gerard Berry, Chair of « Algorithms, Machines and Languages »
Collège de France, Director of Research INRIA - Graduate Ecoles Polytechnique and Mines, Professor Berry, « Mister Computer Science » in France, will give a panorama of the digital metamorphosis of society and provide keys to why and how the world becomes digital (the title of one of his books)
Q & A will be followed by Technology and the Creation of New Markets : Startups
Young Stanford and Harvard alumni will present their successful startups and how they use computing to disrupt the market
Stanford : Matthieu Rouif HeyCrowd - Antoine Durieux Jerome
Harvard : Philippe Vincens Tweego - Camille Tyan PayPlug
An elegant Cocktail Reception with Champagne will close the event
Join us for a very intellectually exciting conference !
Venue : France-Amériques, 9 avenue Franklin-Roosevelt, Paris 8 (metro Franklin-Roosevelt)
Participation Price : Stanford, Harvard, HEC : 25€ - Non-members 29€ (Payments at door +5euros) - For payments by check contact organizer.
Registration/Payments : Please go to http://www.amiando.com/impactofcomputers.html
Organization/Contact:
Maria Adle, Stanford Club of European Leaders, europeleaders@stanfordalumni.org, +33 (0)6 14 50 30 43See More
Pour être informé des derniers articles, inscrivez vous :